Dear friends,
Greetings and blessings from Tenali.
Things here in the slums, are gaining momentum
looking at what we can do as a Ministry, but also
the need for help is increasing rapidly.
Our cooperation with our friends Ps. A. and his wife
Ps. V. (not full names for obvious reasons) and the
team of volunteers, is really God given. These people
are priceless and a real blessing.
More and more children that are orphaned or just left
alone for whatever reason, single mothers and old
widows due to lack of care, are forced to find their
way into the slums, since they have nowhere else
to go, and the word of our help is spreading.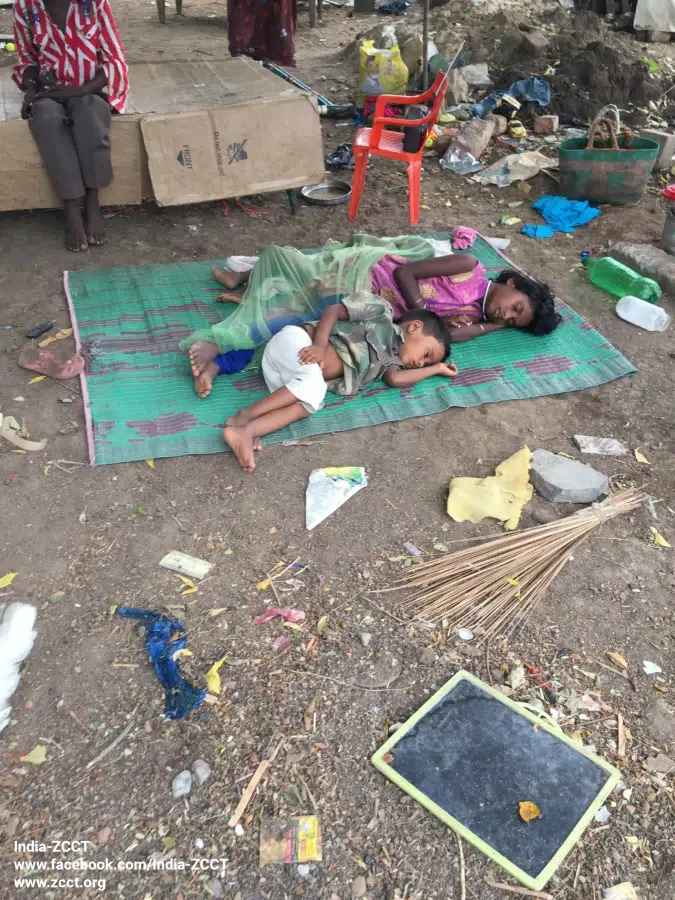 Here they, if lucky, find a place with some other people
living here or are living either rough on the street or in
deplorable self made (with whatever they can find and
use) hut like structures.
Due to the increasing need, our food project for about
500 children is at its financial capacity, but we see that
the children we reach are getting more healthy and
stronger. This both physically as well as mentally and we
cannot be anything else than very grateful and praise the
Lord for this.
For these children it means some relief of their heart ship
if they do not have the need to beg, scavenge or sell
themselves for some food.
But also the single moms and their children we are
allowed to help, as well as the many left alone old widows
greatly benefit from the meals we by the Lord's grace can
provide in.
And the new location for our vocational training center is an
absolute improvement and we feel blessed when we see how
eager the girls, that do the sewing course, are to learn a trade
that may help them towards a better and independent life.
But, looking at the growing incomparable need we are confronted
with we, absolutely and so the Lord willing, must grow our Ministry
here.
So after praying and consulting our board of advisors we looking at
the present overall situation, feel that now is the time to make a big
change.
Bringing food is one thing, but education is the beginning of chance.
For 2022 we have been given a clear vision being:
*The set up of a soup kitchen, run by our present volunteers assisted
by the girls in the slums so these girls can learn about food hygiene
and how to cook simple but healthy meals.
*Extending our present vocational training for girls with at least 15 extra
sowing machines.
*Rent or buy a real stone building/house with sanitation and at least 4
to 6 class rooms for our vocational training.
*On this new location start with a bicycle and motor repair training and
shop for boys (or girls if they want this).
*Grow towards making both of our trainings self-sufficient, so needed
materials can be bought from our income.
*Set up of a training program and help towards the labor market for our
students
*The start up of basic education, reading and writing for the slum kids,
since illiteracy in the slums is a huge obstacle for finding any sort of work.
We would like to invite you to first of all thank the Lord for all that He has
made possible so far.
Secondly we would like to invite you to pray if the Lord may guide you
in becoming a sponsor for our Ministry and or towards the things we
see as our God given vision for 2022.
Thirdly we would like to invite you to share our Ministry with your family,
your friends, with your church or within your professional peer group.
May the Lord bless you abundantly,
Rev. Dr. Jan
www.zcct.org
www.facebook.com/IndiaZCCT