Dear friends,
It is time to give you an update on
what the Lord allows us to do here in Tenali.
Something really awesome is happening in our
Ministry here in the Tenali slums. The Lord is
opening doors that, until now, have been closed.
We draw the positive attention of government officials and managers of the bank we work with here.
From both the government and the bank, officials
came and helped us share the food with those in
need.
For us as leaders, Ps. A. and myself, but
certainly also for our team of volunteers,
the children and the other people in the
slums, it means that they and their deprived
situations have been seen and recognized.
The number of children and teens that need
our help is increasing and we at date reach
out to about 500 of them with our food program.
But also the old, the sick and the disabled are
calling on us for help and the overall situation
here is serious and, looking at numbers, sometimes
overwhelming. Lockdowns and restrictive
measures made the situation of these extremely
poor people here even worse than it was.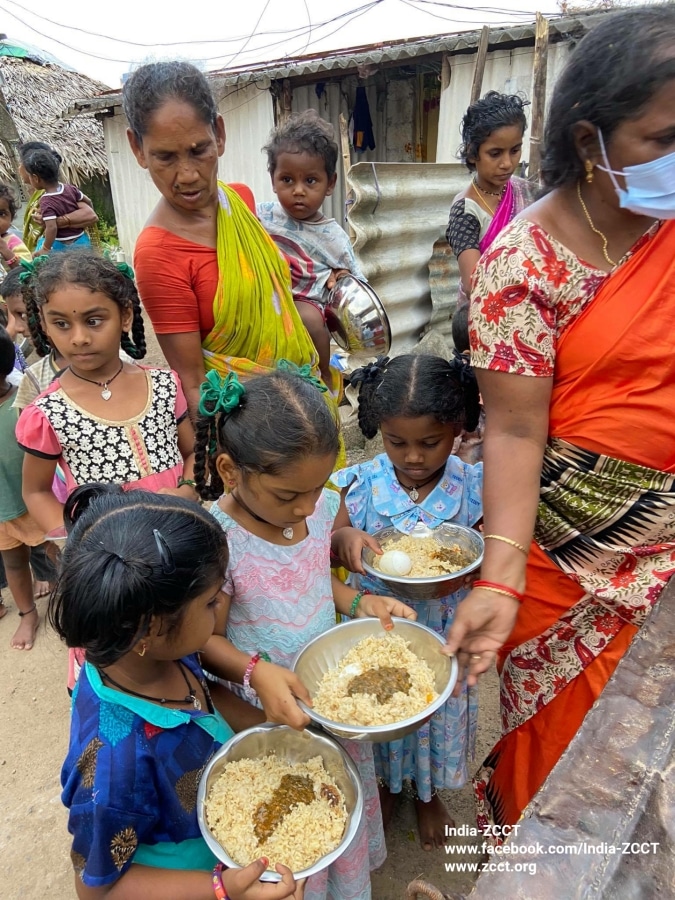 It really is a miracle looking at living circumstances
here in the slums and the number of people we contact,
none of our staff and volunteers is sick with covid and
also here in 'our' slums, the children and others are healthy.
With the team of volunteers, huge amounts of food are prepared and cooked very early in the morning, transported to the slums and distributed, but the need is great and asks for us to do more.
We would like to ask you to team up with us as a prayer warrior
for this part of our Ministry, and if in any way possible to become
a financial partner so we may enlarge the place of our tent of presence here.
"Enlarge the place of your tent, and let the curtains of your
habitations be stretched out; spare not; lengthen your cords
and strengthen your stakes"
Isaiah 54:2 Amp.
Be blessed,
Rev. Dr. Jan
If led to support us any donation towards our ABN AMRO
bank account or via the PayPal button on our website is more
than welcome and will make the difference in the life of a child.
*None of our staff or volunteers receive any salary or allowance
from donations for this project so your donation will go to the
work for the full 100%*